About the Company
At O'Neills Dry Cure Bacon Co. we know that the tastiest bacon is dry cured by hand in the traditional way with no added water or phosphates.  We pride ourselves on producing bacon that tastes and cooks like it should. Our award winning Irish bacon is cured by hand in Co. Wexford using our unique family recipe with a mix of natural sea salt and sugar. We have 30% less salt than average and as we don't add water, no phosphates are needed.  With O'Neill's you get all meat, so when the bacon is cooking there is no shrinking on the pan. O'Neill's Dry Cured Bacon Co. has won numerous prestigious awards including the Food Writers Guild award, numerous Great Taste Awards, is highly acclaimed by food critics and is the chosen bacon of many of the top chefs in Ireland. The range includes dry cured rashers, streaky rashers, ham fillets, bacon steaks, sausages, black pudding, bacon jam and bacon loins.
Origin Green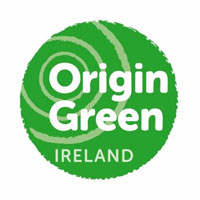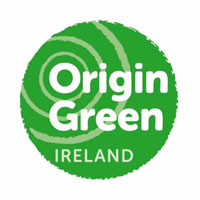 O'Neills Dry Cure Bacon are members of Origin Green, Ireland's food and drink sustainable programme.
Sustainability Commitments
Committed to Reducing their Environmental Impact:  90% of by-product/waste produced in rasher slicing is utilised now for lardons (since 2016) and for trim which is sold to another producer who in turn produces puddings for them. The lardons are lean meat from the ends of the loins which cannot be used for a rasher slice.
Committed to Local & Responsible Sourcing:  Target of sourcing 90% of Pork from Bord Bia approved primary processing plants by 2018 and 25% of pork from Wexford Farms.
Focus on Health and Nutrition:  Will launch a new product in April 2018 – 95% lean Pork Medallions for the health conscious consumer.
Bord Bia Quality Assurance Scheme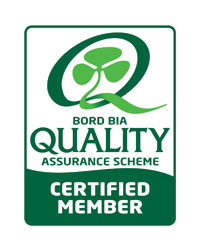 We are a member of the Bord Bia Quality Assurance Scheme. This means that our Bacon has been produced to the highest Bord Bia quality standards and uses all Irish Pork. All of our bacon is fully traceable and the production facility is following excellent hygiene and manufacturing practice.
Wexford Food Family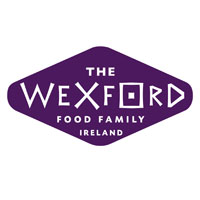 We are a member of the Wexford Food Family.  Wexford Food Family brings together the makers of some of the best food in Ireland. What they share is a dedication to quality food, to support and use local ingredients whenever possible and to taking care of the families so that their food can nurture yours.