The Great Taste Awards for 2013 have been announced and your favourite bacon company won a star for our Dry Cured Rashers and our Dry Cured Streaky Bacon.   Great Taste, organised by the Guild of Fine Food, is the acknowledged benchmark for speciality food and drink. It has been described as the 'Oscars' of the food world and the 'epicurean equivalent of the Booker prize.  Needless to say we are delighted that O'Neills Dry Cure Bacon Co.'s great tasting bacon has been acknowledged. The fact that the compnay is the only one throughout Ireland and the UK to have achieved an award for Streaky Bacon is further cause for celebration.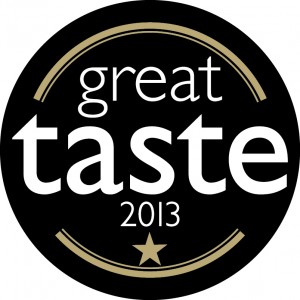 O'Neills Dry Cure Bacon Co. produces a great tasting range of dry cured bacon.  All the bacon is cured by hand for 3 weeks using a unique family recipe with natural sea salt which really enhances the flavour of the pork. There is 30% less salt than average and as no water is added, no phosphates are needed. This is bacon cured in the traditional way, with superb results.
"We are delighted to have won this international award for our two most popular products, our Dry Cured Rashers and Dry Cured Streaky Bacon.  The feedback from the judges is consistent with what our customers tell us every day; they loved the taste, the fact that the rashers don't shrink on the pan and that they are not too salty.   To have won two awards the first year we have entered is a great achievement and one we are very proud of." Commented Pat O'Neill, O'Neills Dry Cure Bacon Co. 
Great Taste is simply about the taste of the produce.  Judges will never see any packaging, they will not be influenced by what producers say about their products on pack, on their website or anywhere else.  All comments are generated from the taste, smell and look of the products they are presented with.  More than 12 judges, taste, confer and re-taste before making the decision.  Here is a sample of what the judges said about O'Neills Dry Cure Bacon Co. Streaky Bacon "The appearance is excellent. The bacon has a lovely flavour, is not too salty, and retains shape well during cooking as there is no shrinkage." The judges experienced, tasted and recognised everything that makes the O'Neills Dry Cure Bacon Co. range so special.
The range is now available in excess of 80 of the finest food stores, supermarkets and local farmers markets. Produce is supplied to premium hotels such as Kelly's Rosslare, Monart, Mount Juliet & The Morrison in Dublin. In Wexford you can purchase O'Neills bacon in Pettitts Supervalu, Kate's Farm shop, Supervalu Rosslare and Bunclody along with Farmers Markets in Enniscorthy & Gorey to name only a small few. See stockists