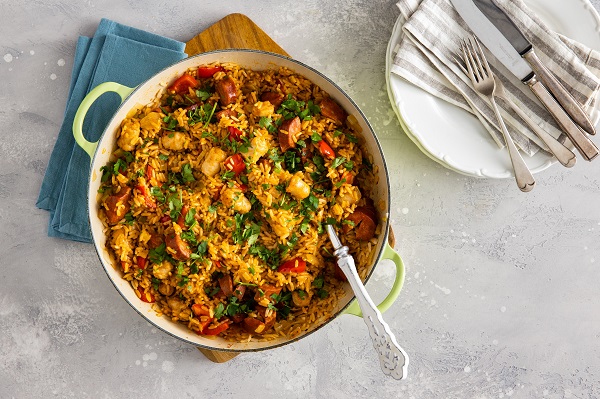 One Yummy Mummy Jambalaya with O'Neills
Prep time: 10 minutes
Cook time: 25 – 30 minutes
Yield: Serves 4-6
6 O'Neills Pork Sausages
200g Chorizo
2 Garlic Cloves, crushed
1 White Onion, chopped
2 Celery Stalks, chopped
1 Red Pepper, chopped
350g Easy-Cook, Long Grain Rice
600mls Chicken Stock
1 heaped tsp Smoked Paprika
1 tbsp Cajun Seasoning
1 tbsp Tomato Pesto
1 tbsp Olive Oil
Salt & Pepper to season
You will need a large, cast-iron pot with a lid. If you don't have one of these, a large saucepan with a lid will do.
Over a high heat, fry off the garlic and onion in the olive oil.
Add the chopped celery stalks and red pepper.
Chop the chorizo and sausages, and cook them in the pot until brown and crispy, stirring as you fry.
Sprinkle over the smoked paprika and Cajun seasoning, then stir in your dollop of tomato pesto.
Add in the easy-cook rice. Give all the ingredients a good mix together then pour in the chicken stock.
Season with salt and pepper.
Cover the pot with a lid and reduce the heat to a very low simmer for 25-30 minutes until the rice is cooked. Add in more liquid if needed.
Give the dish one final mix then serve.