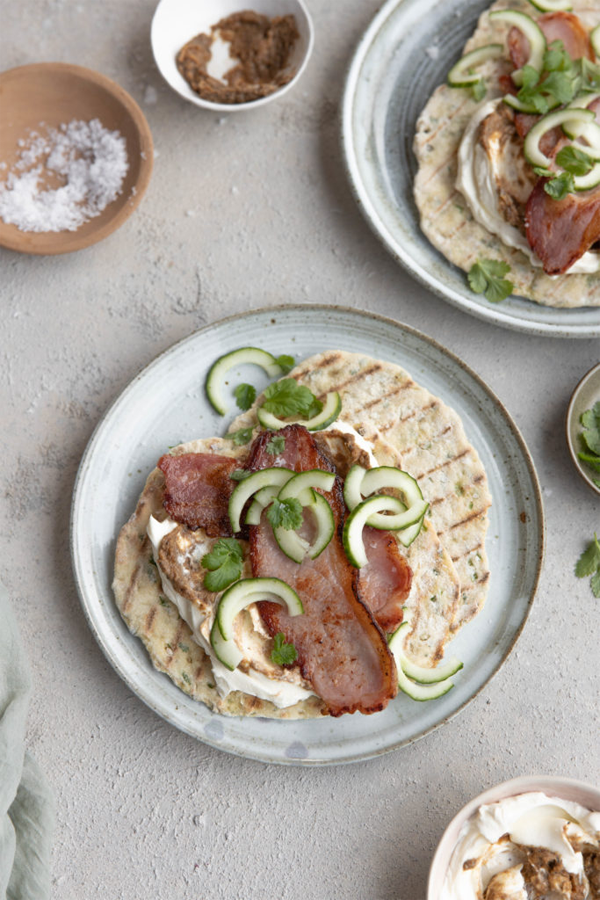 O'Neills Bacon Breakfast Flatbread
There is nothing like a Full Irish but if you are looking for a change than this recipe is for you.
Inspired by Dishooms breakfast naan, we are switching it up to use our homemade bacon jam and flatbreads. The tamarind and spices which infuse the jam work really well with the coriander seeds in the flatbread – delicious!
For the flatbread:
Large handful coriander, finely chopped
1 egg
1 tsp coriander seeds, crushed
1 green chilli, finely chopped
75g natural yogurt
150g self-raising flour
To serve:
4 slices O'Neills Dry Cured Rashers
100g cream cheese
2 tbsp O'Neills Bacon Jam
½ cucumber, seeds removed and thinly sliced
Preheat a grill to high and place the O'Neills Dry Cured Rashers under the grill for 3-4 minutes each side until golden, crisp and cooked through. While the bacon is cooking prepare your flatbreads.
Combine half the coriander with the rest of the flatbread ingredients in a medium sized bowl. Heat a griddle pan over a medium heat. Lightly dust a surface in flour and gently knead into a round. Divide in quarters and then shape each quarter into a round. Dusting each piece with a little flour as you go, roll to create a round thin piece approximately 15cm each. Add one to the pan at a time and griddle for a minute each side until slightly risen and with golden griddle marks each side.
To serve, divide the flatbreads between the plates. Top each with a dollop cream cheese. Swirl through the bacon jam. Next add the cooked bacon, cucumber and sprinkle over the remaining coriander leaves.