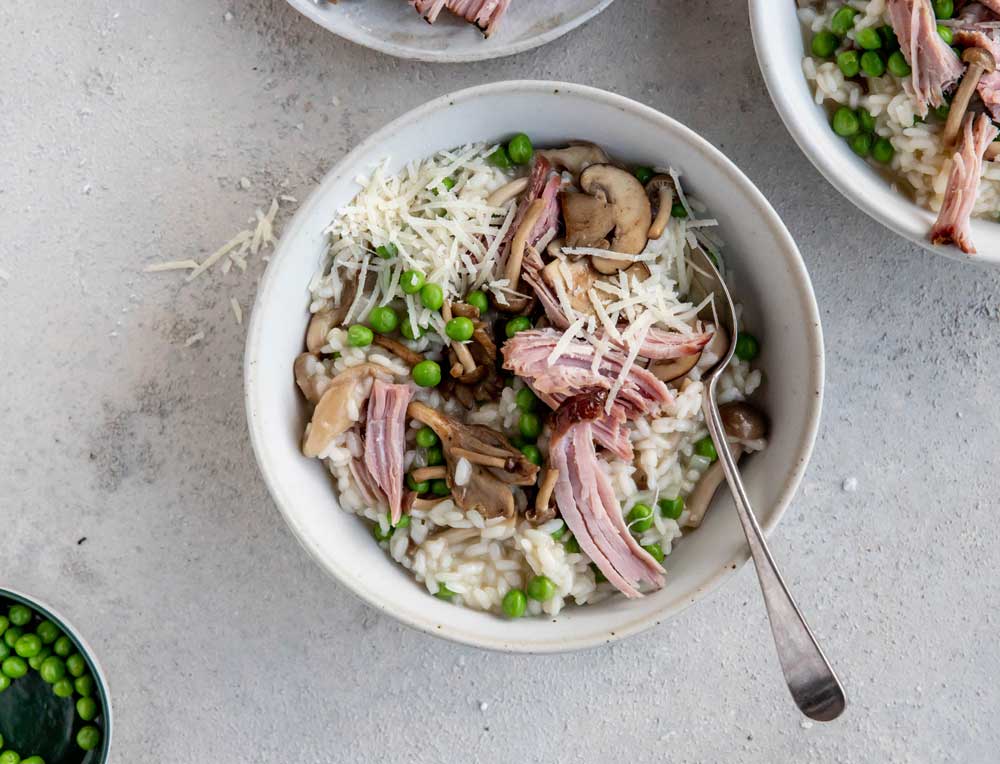 O'Neills Mushroom and Ham or Bacon Risotto
This is a quick midweek meal which uses up store cupboard ingredients and any leftover ham (it also works really well with our Lardons). This is all about using leftovers so feel free to replace the peas with spinach, chicken stock for vegetable if preferred, parmesan for cheddar – you name it.
Equipment: sauté pan
Serves: 4
3 tbsp olive oil
500g wild mushrooms, halved or sliced if large
50g butter
1 onion, finely chopped
2 garlic cloves, crushed
200g risotto rice
2 sprigs thyme
150ml white wine
1 litre hot chicken stock
200g leftover O'Neills Ham, shredded or use O'Neills Dry Cure Lardons
50g parmesan, finely grated
200g frozen peas
Sea salt and freshly ground black pepper
Heat 2 tablespoons of the oil in a large sauté pan over a medium to high heat, toss the mushrooms in this for 4-5 minutes until golden and cooked. Set aside.
Add half the butter to the pan along with the remaining tablespoon of oil and once the butter has melted add the onion and garlic, cook until softened but not browned.
Stir the rice into the onions to coat, along with thyme.
Pour the wine into the pan and simmer for 2-3 minutes until it has all been absorbed. Add a cup of chicken stock at a time until fully absorbed and repeat until all the stock has been used up. This will take about 15-20 minutes over a gentle heat. You don't want it to simmer to rapidly or the stock with evaporate before it gets a chance to be soaked up.
Remove the thyme from the pan. Fold half the mushrooms and parmesan into the rice along with the remaining butter and peas. Allow the peas and mushrooms to heat through. Taste and check seasoning. You may need to add more stock to adjust the texture of the risotto just before you serve. Divide between the serving bowls, top with the leftover ham, remaining mushrooms and parmesan.