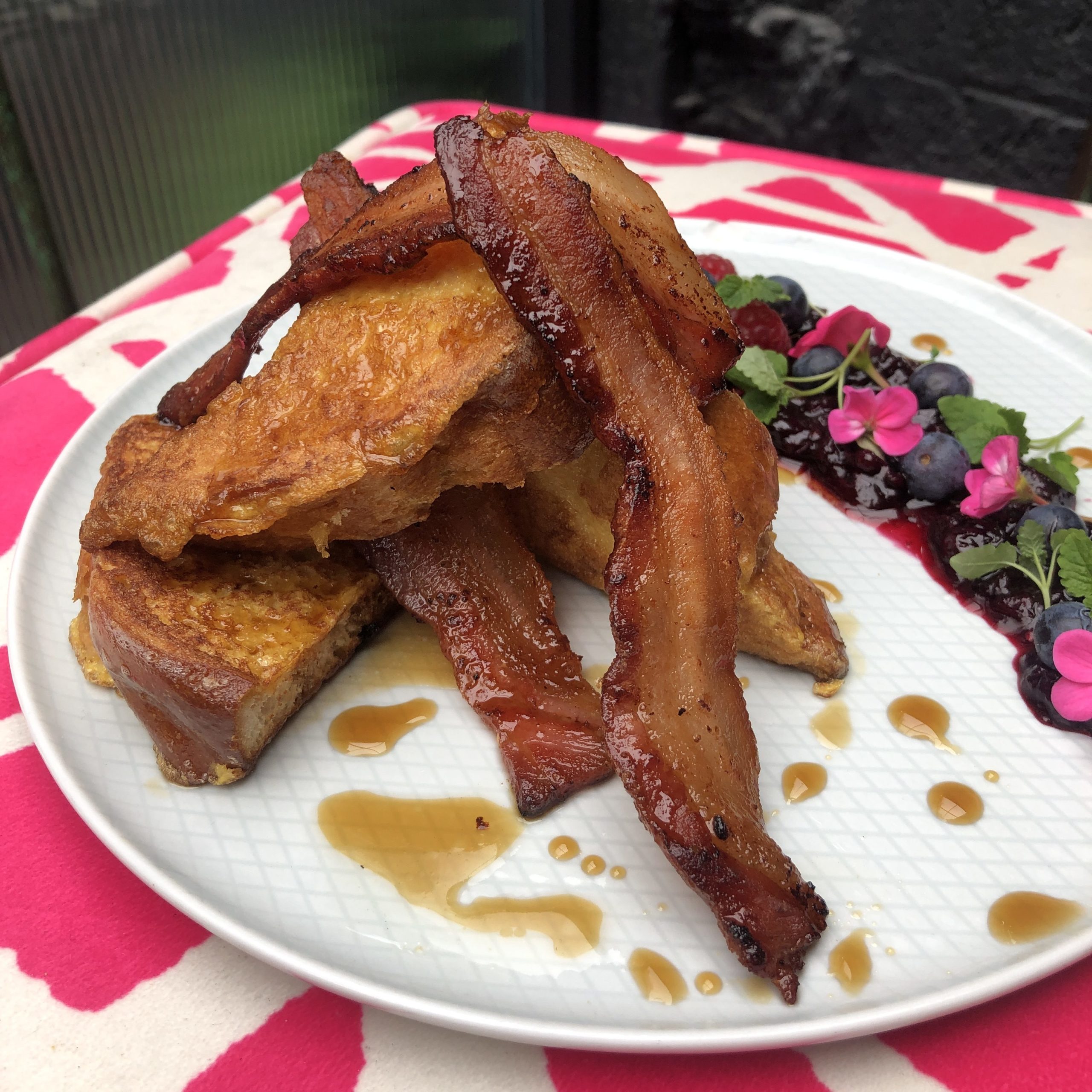 Pot Bellied Pig Brioche French Toast
Delicious French Toast from Pot Bellied Pig
3 thick slices of good Brioche bread (we use Firehouse Bakery)
2 Eggs, beaten
Splash of milk
1 tsp Vanilla Essence
6 slices of O'Neills Dry Cure Streaky Bacon
Raspberries, blueberries and lemon balm to garnish
Seasonal Berry Compote
500g of mixed seasonal berries
100g light brown sugar (may need more depending on the sweetness of the berries)
1 Orange (rind and juice)
Vanilla pod
Cinnamon stick
Candied Walnuts
50g brown sugar
150 raw walnuts, halved
Pinch Maldron salt
Compote:
Pop all of the ingredients into a pot and slowly simmer for 30 minutes. You want some of the fruit to still have its firmness so ensure not to boil.
Candied Walnuts:
Put the brown sugar in a pan on a very low heat, allow it to slowly dissolve and become syrup like. Whilst your waiting for this (but keeping an eye on it and stirring often) put the walnuts in the oven at 150 degrees, once they start coming away from their shells they're almost ready. Don't let them colour too much as they'll become bitter. Once both are ready mix the walnuts into the sugar distributing it all quickly and evenly before it hardens then sprinkle with the Maldron salt before letting them sit in a cool, dry place.
French Toast:
Preheat your oven to 180 degrees. Mix your egg, milk and vanilla with a whisk in a bowl. Cut the brioche in to 1 inch thick slices and dip into your mix. Allow it to get a good coating but not too much that it's soggy and breaking up. Allow your griddle pan to become medium hot and place your brioche onto it. Cook until nicely golden and flip it over to do the same. Pop it in the oven for 10 or so minutes just to ensure that it's cooked thoroughly. Whilst this is in the oven, heat your pan to hot and pop on your O'Neills Dry Cure Streaky Bacon, cook to your liking.
To serve:
Use a brush or a spoon to do a swish of compote across your plate, add the fresh berries, walnuts and lemon along the swish to decorate. Cut the three slices of brioche in half and use 3 halves per person, stack them up along with your bacon and drizzle over the delicious maple syrup. Eat, then lick the plate!