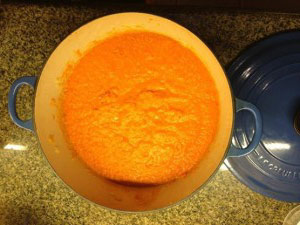 Roast Pumpkin & Bacon Soup
Prep time: 10 minutes
Cook time: 50 minutes
1 Pumpkin
2-3 red peppers (sweet Ramiro if you can)
200g O'Neills Dry Cure Bacon, diced
1 onion, chopped
2-3 cloves garlic, crushed
2-3 carrots, diced
Sunflower or rapeseed oil
Black pepper
Chicken Stock (approx 1 ½ pint)
Chop the pumpkin into chunks (no need to peel).
Put onto a roasting tray, splash with oil and a generous sprinkle of black pepper.
Roast in oven for about 20 mins then add in the red pepper chunks.
Return to oven until the pumpkin is soft (about another 15 mins)
Meanwhile, add a splash of oil to your saucepan and sweat off onion, garlic and bacon. Add in diced carrots. Leave on low heat.
Remove your pumpkin from oven and simply peel off the skin. Add chopped pumpkin and red peppers to saucepan.
Add in chicken stock, bring to the boil then simmer for another 15 minutes.
Liquidise with a hand blender or potato masher if preferred.
Season to taste. Cream can be added if desired.
Of course source all your ingredients locally where possible.