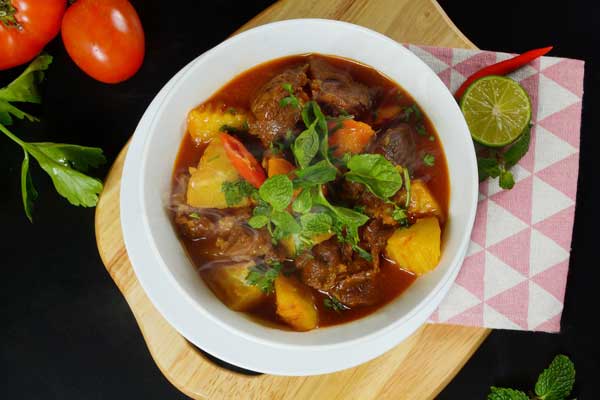 Beef Casserole with O'Neills Dry Cure Bacon
800g diced stewing beef
250g O'Neills Dry Cure Bacon (rashers chopped or lardons)
2 onions, diced
3 garlic cloves, finely chopped
1 celery stick, finely diced
1 tbsp tomato purée
1 tbsp seasoned flour
1 tbsp cornflour
1 tsp of mixed dried herbs
500ml red wine
150ml beef stock
2 carrots, sliced
8 mushrooms, sliced
Olive Oil
Heat oil in a heavy pan and add in the bacon lardons. Cook until coloured and then transfer to a large casserole dish.
Next, cook the onion, garlic & celery in pan until soft and translucent. Add in tomato purée and cook for a minute before removing to the casserole dish. Brown the beef in batches on the oiled pan and then transfer each batch to the casserole dish.
Mix meat, lardons & vegetables together and sprinkle in seasoned flour and herbs.
De-glaze the pan by pouring in the wine and stock and bring to the boil ensuring to scrape up any tasty bits from the pan. Boil for a couple of minutes and then pour into casserole. Add in the carrots & mushrooms.
Cover casserole dish and bake in oven at 160° C for about 2 hours, until meat is very tender.
At the end of cooking add blended cornflour to thicken up the sauce.
Serve with mashed potatoes.
by Eugene O'Callaghan, Executive Chef, Kelly's Resort Hotel & Spa, Rosslare.