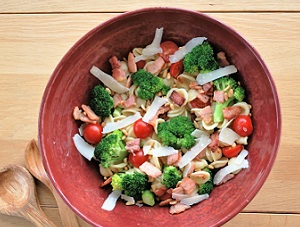 Pasta, Broccoli, & Bacon Lardon Salad
This pasta salad is super quick to prepare, will be a big hit with the entire family and who knows the little ones may even eat their greens!
1 x 150g pack of O'Neills Dry Cured Bacon Lardons or approx 4 dry cured rashers or 6 streaky rashers chopped up
1 head of broccoli cut into florets (Irish if possible)
A dozen cherry tomatoes halved
100g of pine nuts toasted
300g of pasta of your choice (Orecchiete pictured, penne and fusilli are great too)
Olive oil
Fresh Parmesan
Fresh basil (optional)
Cook your pasta in salted boiling water. 3 mins before this is finished add your broccoli florets and cook with the pasta for the last few mins.
Drain your pasta and broccoli and blanch both in cold water.
Pan fry your O'Neills Dry Cured Bacon Lardons at a high temperature in a little oil for 4 to 6 minutes turning frequently until fully cooked.
Dress the pasta, tomatoes, broccoli and bacon with olive oil and mix in a large salad bowl.  Finish with the toasted pine nuts, Parmesan shavings and basil and let everyone help themselves!