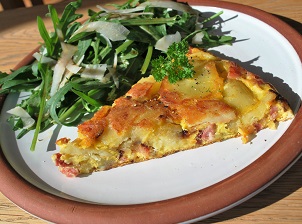 Spanish Tortilla
This works both hot and cold and for lunch or dinner. So if you make this for dinner who knows you may be lucky enough to have some left over for lunch the next day, but I wouldn't bet on it!
1 x 150g pack of O'Neills Dry Cured Bacon Lardons or approx 4 dry cured rashers or 6 streaky rashers chopped up.
6 eggs
1 onion chopped
350g of peeled and chopped potato
Grated cheese is optional
Olive oil
Seasoning
Heat the oil in a non-stick frying pan, add the chopped onions and potatoes and fry for about 8 minutes, turning frequently until tender. While cooking beat the eggs in a large bowl with plenty of freshly ground pepper (cheese can be added here if desired).
Next add the bacon and fry for a further 4 -5 mins.
Reserve most of the excess oil, leaving a little in the pan. Pour in the eggs and mix among the potatoe and onion mixture so its well covered and leave to cook undisturbed on a low heat for 8 minutes until the bottom is set.
Then flip the tortilla, ensuring the pan is oiled again if required, and cook on the reverse side for a further 6 minutes.
Once cooked remove to a large serving plate and cut into slices.  This can be served hot or cold and is lovely with a fresh green salad.