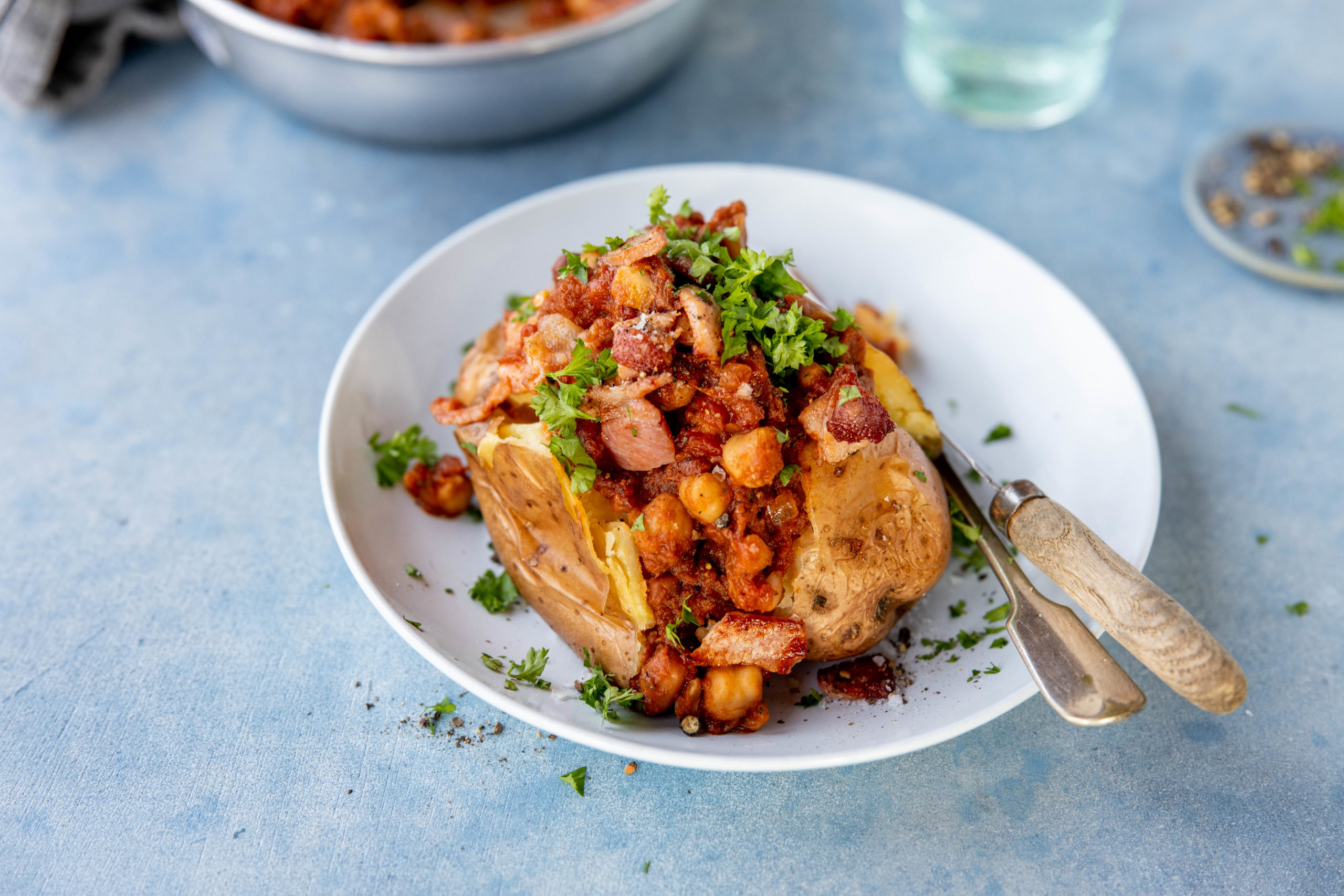 O'Neill's Chilli Bacon Baked Beans
These tasty Chilli Bacon Baked Beans are super easy to create. You can serve in a Baked Potato or for an even quicker supper, simply griddle sourdough. Cook time is an hour from start to finish and this recipe serves 4.
Equipment: medium saucepan
For the baked potato:
4 large rooster potatoes
2 tsp olive oil
For the baked beans:
2tbsp olive oil
1 sprig rosemary
150g O'Neills Dry Cured Bacon Lardons
1 onion, finely chopped
2 garlic cloves, minced
¼ tsp cayenne pepper
1 x 400g tin mixed beans, drained and rinsed
125ml O'Neills Bacon Jam
Dash Worcestershire sauce
1 x 400g tin finely chopped tomatoes
Small handful parsley, roughly chopped
Sea salt and freshly ground black pepper
Preheat the oven to 180°C/350°F/Gas Mark 4.
Place the potatoes on a roasting tray, drizzle the oil onto the potatoes and using your hands coat the outside in the oil. Pop them into the oven to bake for 1 hour.
20 minutes before the baked potatoes are cooked it's time to get going on the baked beans. Heat the oil in a large skillet over a low to medium heat. Once hot, add the rosemary and swirl around in the oil until fragrant, taking care as it may spit. Add the O'Neills Dry Cured Lardons to the pan and fry for 3-4 minutes until golden and crisp, add the onion and garlic to this and sauté for 4-5 minutes. Next stir through the caraway seeds and cayenne. Coat the onion in these.
Pour the beans, O'Neills Bacon Jam, Worcestershire sauce, 100ml water and chopped tomatoes into the pan. Leave to simmer for 10-12 minutes until the sauce has slightly reduced, stirring regularly. Season to taste.
Place a potato on each serving plate, criss cross the top with a knife and press to open apart. Divide the beans between each one and garnish with the parsley.