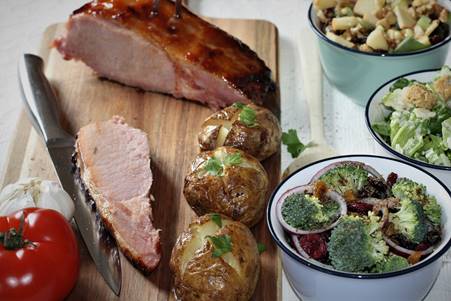 One Yummy Mummy Bacon Joint with Sticky Barbeque Glaze
We have teamed up again with Jolene from One Yummy Mummy and she has created this summer inspired dish using our Dry Cured Bacon Joint.
We recommend that you bake our bacon rather than boiling – it ensures maximum flavour is retained.
For this recipe Jolene used her slow cooker and finished it off by brushing the fat with sticky barbecue glaze and letting it bubble and caramelise under the grill for a minute or two.
This recipe is nothing short of perfection, served with baked new potatoes and your favourite summer salads.
800g dried cured bacon joint
Barbeque Glaze
2 tablespoons of honey
2 tablespoons of tomato ketchup
2 tablespoons of soy sauce
1 teaspoon of smoked paprika
Preheat oven to 180c fan Gas mark 4
To oven cook, place Bacon Joint wrapped loosely in a greaseproof paper parcel, place in the oven and let it bake.
When baking in the oven it's recommended you cook the joint for 20 minutes per pound (450g).
I used my slow cooker for this recipe, cooking on low for 4 hours with no added liquid, (it was so juicy!)
Meanwhile, make your glaze by mixing honey, ketchup soy sauce and smoked paprika in a small bowl
When your joint is cooked brush the fat with the sticky barbeque glaze and place under the grill for a few minutes until bubbling and caramelized.
Serve with baked new potatoes and your favourite summer salads.